Experiences on and around the campsite
There are many different experiences on and around the square.
Visit the Arena in Aabenraa
Large swimbath with sauna and gym
Visit Paintball Delux
Paintball, laser games, bumberballs, kangaroo boxing
Visit the Sports Center in Aabenraa
Bowling, playground, laser game and mini golf
Walking and cycling
Forest and Nature Agency and Haderslev Tourist arranges experiential tours with guide, where everyone is welcome to attend.
Hiking
There are many excursion destinations in Southern Jutland.
Gåsevig Strand Camping is located at the bottom of a tunnel valley. The tunnel valley goes via the re-established Slivsø up to Hoptrup town.
Slivsøen
About 3 km from Gåsevig Strand Camping is Slivsøen – a nature restoration project with a completely unique nature.
The area is suitable for a long walk or bike ride around the lake.
Slivsø is 164 hectares and South Jutland's third largest lake. The lake is a habitat for 180 bird species, among others. the sea eagle lives in this area. In addition, the lake contains many pike, perch and trout.
At Slivsø there are good hiking routes. A north route and a south route. The northern route takes you very close to the lake and wildlife. It takes you past the old pumping station, which today has been rebuilt and serves as a lookout tower. From there there are views of the entire lake and wildlife. The route is about 3.5 km long.
The southern route is about 2.5 km long and offers a panoramic view of the lake and the countryside.
In the middle part of the lake there is the possibility of canoeing, kayaking and rowing. Read more about the rules by following this link: http://naturstyrelsen.dk/naturoplevelser/naturguider/slivsoe/
From d. January 15 to January 15, it is allowed to fish in the middle part of the lake, if you have a valid fishing license.
​
Here are many other offers for a good hike also on a typical East Jutland coastline. Short or long hike, ask at the kiosk and we will help as best we can.
​Cycling
The terrain is also for cycling. Just outside Gåsevig Strand Camping is cycle route no. 5 and the cycle route "Baltic Sea route" also passes right by.
We suggest a trip Kalvø island, or a bicycle trip to Round Mill on Løjtland along the coast and through the forest.
The "cool" bikes down to the ferry and sail to Barsø, which can be seen from the square, go for a walk and then cycle home again. The zoo with deer and roe deer is only a little 10 km away. Ask at the kiosk, we are happy to help.
Take the car
If you are going for a ride, there are countless options. Activities are described elsewhere, but take a trip to one of the South and South Jutland market towns – or go to Flensburg.
Sportscentrum
Indoor activity land of 3500m2
X-treme also in everyday speech called Sportscentrum is located in Aabenraa city only 15 km. from Gåsevig Strand Camping.
Here you will find bla. bowling alleys, playground, indoor mini golf, laser game, games room, squash courts, pool tables and much more.
You will also find a cafe and restaurant with really nice surroundings.
Here the whole family, friends, campers etc. can play and compete in style. for example, the sports center offers a triathlon where you compete in 3 different activities.
We are to that extent happy with the collaboration agreement we have received with Sportscentrum which gives our guests a full 25% discount on all activities when they spend the night here at Gåsevig Strand Camping.
Inquire at the reception how and see more at www.sportscentrum.dkfor opening hours and prices.
Regards Team Gåsevig
Aabenraa swimbath
Southern Jutland's best swimbath with slide
Aabenraa Water Park contains 2 pools. One pool suitable for small children with slightly warmer water and i.a. countercurrent channel, massage nozzles as well as a water cannon and other figures spraying water.
​
The swimming pool also contains a sports pool where there is plenty of opportunity to unfold on the 1 and 3 meter seesaw or swim lengths in the 25 meter long pool.
For the bravest, the water park also includes a 60-meter-long water slide.
The water park also includes a sauna, Turkish steam bath and spa pool.
Read more about the water park located in Arena Aabenraa, the prices and their opening hours via the link here.
Gåsevig Strand Camping has entered into a partnership at both the water park and fitness center in Arena Aabenraa.
This means that we can now offer a benefit price on admission to these activities. Eg. then you as an adult can come to the water park for only DKK 30. against the normal price is DKK 46.
Inquire at reception about how to receive this offer.
Regards Team Gåsevig
Paintball Delux
Outdoor activity center at Aabenraa in Southern Jutland
Paintball-deluxe is a large outdoor activity center where paintball is their main attraction on one of northern Europe's largest outdoor courts.
They write, among other things.
"Paintball is one of the things we are best at. We are one of the few courses in the country that makes a living from offering this sport, and therefore we also approach it completely professionally.
Among other things, we can offer the country's coolest courses with castles, houses and much more. Our courts have also been named Denmark's best paintball court three years in a row.
– Only the best equipment is good enough
At Paintball Deluxe, we only use the best equipment.
That means: no masks fogging, no dirty suits and gloves, and we take great pride in the fact that everything is in order and ready for use before you come. It is important to us that all types of players can get the equipment that they feel best with and feel safe in. Our protective equipment includes of full-coverage masks, neck protectors, gloves and protective vests.
The weapons are semi-automatic. Which means you do not have to worry about charging; each time you press the trigger, a bullet comes out.
All of this makes it a pure pleasure to play, even for complete beginners.
At Paintball Deluxe, of course, all safety equipment is part of the price. "
Attractions and Excursions
There is a large selection near Gåsevig Strand Camping. Everything from a quiet walk, to full speed down the water slide.
We have tried to put together a list of the attractions we think could be interesting.
Mekanisk Museum Sønderjylland
Golf experiences
Jutland has some of Denmark`s most beautiful courses.
Southern Jutland has some of Denmark's most beautifully situated courses. Within 30 minutes drive there are 6 golf courses.
Sønderjyske golf experiences
6 golf courses in Southern Jutland have merged into a green fee scheme. The scheme applies to golfers who visit the golf clubs and who are members of the respective golf clubs.
​The 6 golf clubs is:
Aabenraa Golfklub – Løjtland – 16 km – telefon: 74 75 07 50
Sønderjyllands golfklub – Åbenrå – 30 km – telefon: 74 68 75 25
Benniksgård golfclub – Gråsten – 47 km – telefon: 74 65 22 68
Tønder golfklub – Tønder – 62 km – telefon: 74 73 43 13
Sønderborg Golfklub – Augustenborg – 69 km – telefon: 74 47 37 97
Nordborg golfklub – Nordborg – 82 km – telefon: 74 45 00 05
In addition, further 4 golf clubs in the vicinity of the campsite
Haderslev golfklub – Haderslev – 13 km – telefon: 74 52 83 01
Brundtlandbanen – Toftlund – 38 km – telefon: 74 83 16 00
Royal Oak – Jels / Rødding – 48 km – telefon: 74 55 32 94
Kolding Golfklub – Kolding – 57 km – telefon: 75 52 37 93
See more about the courses on their website or at www.golf.dk.
We are obviously helpful with queries and another if you wish.
Take on the golf holiday in South Jutland.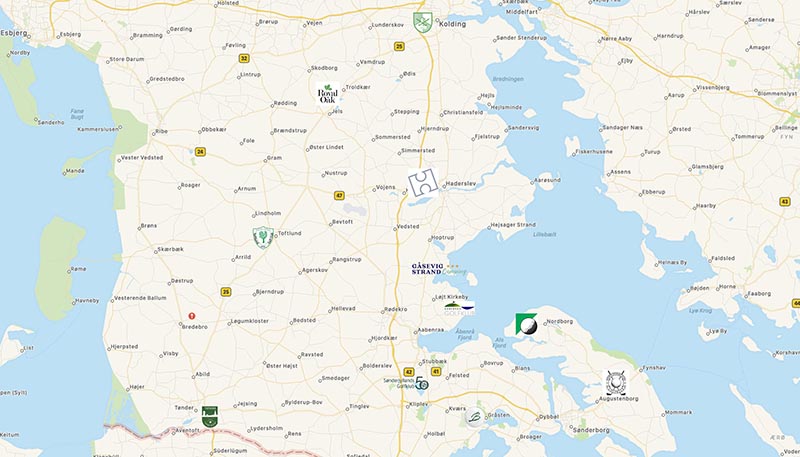 Cultural experiences in and around Haderslev
Opportunity for many wonderful experiences
Haderslev Deer Park
Haderslev Zoo is Denmark's second largest zoo.
It is located towards the western part of Haderslev Dam by Nørskovgård. The zoo is approx. 100 hectares and there are approx. 200 fallow deer and 20 crowned deer, and every year approx. 70 calves. There are many opportunities to see both fallow deer and crowned deer, as they often roam in flocks and preferably on the open plains.
From November to May, the animals are fed every day at the different feeding sites. In the zoo you have a rich opportunity to look at both fallow deer and crowned animals up close, therefore the following guidelines must be observed:
Never bring stray dogs that can scare or embarrass the animals
Do not touch the newborn calves
Do not go closer to the animals than the paths allow

There are 4 entrances / gates to Dyrehaven and many paths – also handicap friendly.
Haderslev Damboat
Do you want a boat trip on South Jutland's largest pond?
You can sail directly from the city center and out into nature, where you can experience the rich bird life and wildlife in and around Haderslev Dam.
The dam boat is electrically powered and sails almost silently.
Hop on board the dam boat and enjoy a nice boat trip.
The trip starts from Bispebroen by Inderdammen in the middle of Haderslev town.
From here you sail to Danhostel and on to Bergs Plads at the entrance to Dyrehaven.
The trip then continues to the port of call at Restaurant Damende, and then sails back to Bispebroen and Haderslev town along the opposite bank.
The trip takes approx. 1 hour.
Camino Haderslev Næs
Do you want to hike in the South Jutland landscape?
Camino Haderslev Næs is a lovely hiking route of 106 km.
Through forests, fields, country roads and cycle paths and with a view of hills and water, Camino Haderslev Næs offers a wonderful, varied trip.
The trip goes from Haderslev Cathedral to Duke Hans Church, Starup Church, Grarup Church, Øsby Church, Aarø Church, Halk Church, Vilstrup Church and Hoptrup Church, before the trip again goes north through Dyrehaven and along Haderslev Dam into Haderslev Cathedral, where the route is completed.
Visit Årø a little gem in the Little Belt
Årø is a lovely little island, with beautiful nature and different experiences.
Visit Årø winery, here they make their very own wine from their own grapes.
Take a tour and experience the history of Årø Winery. Enjoy a light lunch, with a nice glass of wine.
Haderslev Cathedral
Haderslev Cathedral or Our Lady's Church, as the church is also called.
The church is located approximately at the highest point in the city of Haderslev.
The church is not a museum, as it is used every day like other churches. But the church contains an exciting and eventful history, as well as fine church art and furniture.
Guided tours can be arranged, see more here.